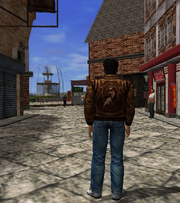 Aberdeen (香港仔; "Little Hong Kong") is the first major area where Ryo Hazuki first arrives in Hong Kong. Aberdeen is a large area cutting between four separate areas leading directly into Wan Chai. Due to its close proximity to the pier, there are several established businesses operating out of the harbor. Located just outside of the Hong Kong Arrival Dock, the area is often the first place most tourists visit, this allows numerous opportunists and gambling stands to attempt to profit of the unsuspecting tourist.In the Worker's Pier can be found a Part-Time Job and numerous gambling houses.
The area is also noted for its criminal element, the Beverly Hills Wharf based Heavens gang often scamming and robbing tourists. The gang remains mostly active within the area and mostly avoids travel into Wan Chai making the area closing in on Queen's Street, a potential danger zone.
Locations
Community content is available under
CC-BY-SA
unless otherwise noted.