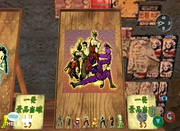 Gotcha is a capsule toy version of Lucky Hit where instead of earning money you earn capsule toys. It's $5 a game.
By playing, Ryo Hazuki can have a chance to obtain rare capsule toys such as Dural Silver, Kids Dural S, Kids Dural G, Space Harrier, or Hang On G.
In the Dural Room on the 12th floor of the Thousand White Building in Kowloon, Ryo can even have a chance to win the rarest toy, Dural Gold although it is difficult to do.
Community content is available under
CC-BY-SA
unless otherwise noted.