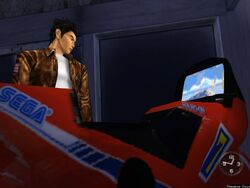 Hang-On (ハングオン Hangu On) is an arcade game designed by Yu Suzuki and released by Sega in 1985. It involves racing your motorcycle against the clock and crossing the finishing line before the time runs out. The game is playable at all the arcades in the Shenmue series. For Ryo Hazuki to play it costs ¥100 at the You Arcade in Yokosuka and $5 at the Yellow Head Building in Kowloon.
Ryo can also win a copy of the game to play on his Sega Saturn by winning second prize in the raffle at the Tomato Convenience Store in Dobuita or the Harbor Lounge in the New Yokosuka Harbor District. Also by earning a score of 10,000,000 or more at You Arcade, Ryo will obtain a miniature capsule toy of the arcade cabinet and by clearing the game with one credit, he will earn a certificate from Yuji Nito the owner of You Arcade.
Gallery
Community content is available under
CC-BY-SA
unless otherwise noted.