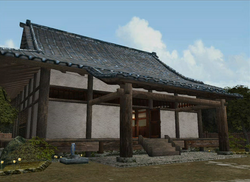 The Hazuki Residence (芭月家) is where Ryo Hazuki lived with his father Iwao Hazuki, the live-in housekeeper Ine Hayata, and the live-in student Masayuki Fukuhara. It is located in Yamanose, Yokosuka.
There is a large garden, a cherry tree, and the Hazuki Dojo.
Inside the dojo, there is a locked box which has a sword in it. Also, there are two scrolls and when taken off there are two switches. One switch has to have the Sword Handguard put into it, and the other must have the sword put into it. Once done the wall will open, and there is the Hazuki Residence Basement. Ryo found the Phoenix Mirror in the basement.
Inside the house there is a kitchen, altar room, living room, bathroom, and the household member's personal rooms.
Gallery
Community content is available under
CC-BY-SA
unless otherwise noted.