QTE Title (QTE タイトル QTE taitoru) is an arcade game that is playable in the Shenmue series. For Ryo Hazuki to play it costs ¥100 at the You Arcade in Yokosuka, $5 at the Pine Game Arcade in Wan Chai, and $5 in the Moon Child Orphanage in Kowloon.
This game works in a similar way to the QTE events in game. Ryo must press either the X, A or B buttons on the controller as the punching mats come towards him. You get 3 chances to miss before the game ends. If Ryo earns a score of 300,000 points or more, he will obtain the Mini QTE Title capsule toy prize.
Trivia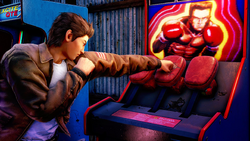 A screenshot from Shenmue III implies that the game will return.
Community content is available under
CC-BY-SA
unless otherwise noted.