Welcome to the Shenmue Wiki!
---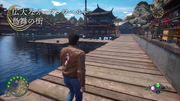 Niaowu (Hànzì: 鳥舞, Pinyin: Niǎowǔ, On'yomi: Chōbu) is a fictional location in Shenmue III. It is a riverside city-village in the mountains of Guilin with lots of shops, souvenir stores, hotels and temples. It is located along the Li River. Its most important landmark is the Elephant Trunk Hill (which is actually located near Guilin City).
To write a new article, just enter the article title in the box below.